Like the world of children's literature as a whole, audiobooks are experiencing a renaissance. They've never been more popular than they are right now, and as a result of their popularity, audiobook publishers are delivering high-quality content like never before. Today's audiobooks for kids feature top-notch narrators, sometimes including a full cast of voice actors for the characters in a book. Sound effects are common, and the production value is high.
Gone are the days of books on tape. Now, audiobooks for kids can be downloaded directly to a phone or device for easy listening on the go. Popular apps, like Audible, charge subscription fees and allow users to download a certain number of books each month. Your better bet is your local public library, which allows users to check out audiobooks and download them using the apps Overdrive, Hoopla, or RBDigital.
Here is a list of some of the best audiobooks for kids, organized by grade level. You'll find a wide variety of books here, including classics like Charlotte's Web and newer books for kids featuring BIPOC characters. You'll even see some graphic novels that have been adapted to audiobooks on the list below!
For even more excellent audiobooks, check out YALSA's Amazing Audiobooks for teen (lists of winners by year can be found here), the Odyssey Award for Excellence in Audiobook Production for children and teens, the Audie Awards, and ALSC's Notable Children's Recordings for children through age 14.
Audiobooks for Kids: Elementary
1. How to Train Your Dragon
by Cressida Cowell, narrated by David Tennant
Get it HERE.
The movies of the same name are based loosely on the How to Train Your Dragon book series by Cressida Cowell. These books, about Hiccup Horrendous Haddock III, have been delightfully transformed into audiobooks that are sure to delight young readers.
2. A Series of Unfortunate Events
by Lemony Snicket, narrated by Tim Curry and full cast
Get it HERE.
Tim Curry reads the modern classic A Series of Unfortunate Events in this book that brings favorite characters to life with aplomb.
3. Boxcar Children series
by Gertrude Chandler Warner, narrated by Aimee Lilly and Tim Gregory
Get it HERE.
Generations have grown up with the Aldens – Henry, Jessie, Benny, and Violet love to solve mysteries. The first 19 books in the series were penned by author Gertrude Chandler Warner, though now more than 150 books exist in the series. The books have now been adapted to audio and are read by either Lilly or Gregory. Sounds effects have been added to the background and make the whole series entertaining.
4. Charlotte's Web
by E.B. White, narrated by Meryl Strep and full cast
Get it HERE.
It's hard to get more classic than Charlotte's Web paired with Meryl Strep as the narrator. Strep narrates and a full cast voices the characters, including January LaVoy as Charlotte and Kirby Heyborne as Wilbur.
5. Princess Academy
by Shannon Hale, narrated by Laura Credido
Get it HERE.
In this series, a young girl named Miri lives in a simple village and lives a simple life – until the king's ministers determine that the next princess will be selected from among her villagers. She, and all other girls, are enrolled in a princess academy, where she faces a cruel academy mistress and bandits. The audiobook version is a perfect children's fantasy adaptation.
6. Anne of Green Gables
by L.M. Montgomery, narrated by Rachel McAdams
Get it HERE.
Hollywood actress Rachel McAdams of The Notebook fame delivers a really outstanding reading of the childhood classic Anne of Green Gables. McAdams gives Anne her spark, which is what has captivated readers about the character for decades.
7. Matilda
by Roald Dahl, narrated by Kate Winslet
Get it HERE.
Matilda is a sweet young genius in spite of having truly horrible parents and a truly horrible school principal. Matilda uses her genius to teach the adults in her life a lesson, and actress Kate Winslet delivers a spectacular reading of this timeless story filled with dark humor that Lemony Snicket fans will love.
8. Inkheart
by Cornelia Funke, narrated by Lynn Redgrave
Get it HERE.
Inkheart is a beloved story about characters from fiction coming to life – and in the audiobook, these fictional characters can come to life in a whole new delightful way. Meggie, daughter of a bookbinder, is startled when, one night during storytime, the book her father is reading comes to life. A villain is loose and now she must come to the rescue.
9. The Ramona Quimby Audio Collection
by Beverly Cleary and Tracy Dockray, narrated by Stockard Channing
Get it HERE.
The beloved character Ramona Quimby is brought to life by narrator-extraordinaire Stockard Channing. Ramona's mishaps and quirky exploits are given new life in this collection, which includes favorite stories such as Ramona the Pest and Ramona Quimby, Age 8.
10. The Word Collector
by Peter H. Reynolds, narrated by Guy Lockard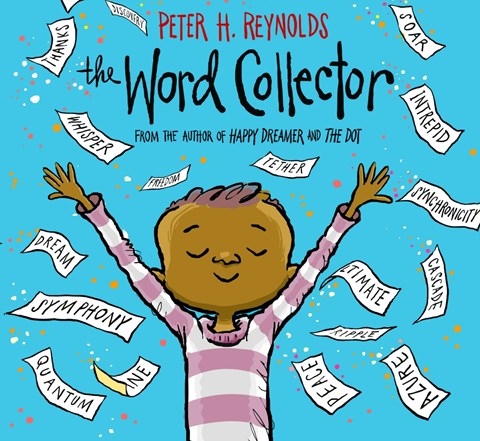 Check it out HERE.
In this short and sweet book, a young boy discovers the power of words to transform his world. A musical score accompanies Lockard's narration.
11. We Are Grateful: Otsaliheliga
by Traci Sorell, narrated by full cast
Find it HERE.
Traci Sorell is an enrolled member of the Cherokee Nation. In this book, she explores the concept of "otsaliheliga," a way in which the Cherokee people express gratitude. The story covers the entire year and explores changes and chances for new thanksgiving offered at each season. A Cherokee glossary and syllabary are included.
12. How to Read a Book
written and narrated by Kwame Alexander
Get it HERE.
Author and narrator Kwame Alexander takes readers on a journey through the pages of a book. While the title suggests an instruction manual, the instructions are more figurative than literal. Children learn about the sensory joy of reading here through figurative language.
13. Rumple Buttercup: A Story of Bananas, Belonging, and Being Yourself
written and narrated by Matthew Gray Gubler
Get it HERE.
The lyrical text of Rumple Buttercup makes it a perfect read-aloud candidate. Gubler here has written a story about the importance of being yourself, no matter what, and the character of Rumple Buttercup is so compelling that you'll want to stand up and cheer for him by the end.
14. The Pigeon Has to Go to School
by Mo Willems, narrated by Mo Willems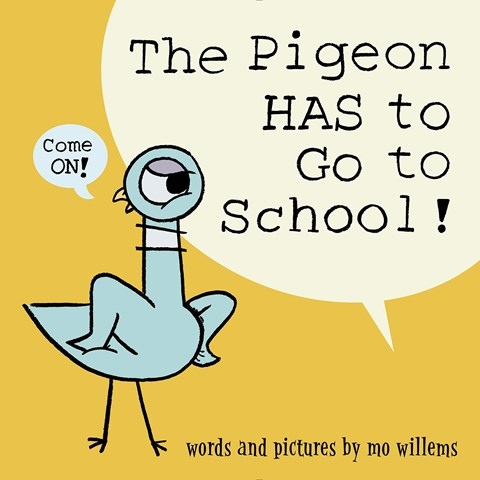 Check it out HERE.
Books narrated by the original author are a treat because readers get to hear them how the author imagines them. Mo Willems, who is also known for his work on Sesame Street, is a perennial favorite author for children. This is the latest installment in his popular Pigeon series, and a musical score adds a layer of depth to his narration.
Audiobooks for Kids: Middle School
15. See You in the Cosmos
by Jack Cheng, narrated by Kivlighan de Montebello and a full cast
Get it HERE.
Eleven-year-old Alex Petroski loves space and hero-worships astronomer Carl Sagan. His ambition is to launch his iPod into space a la Sagan's Golden Record. The book is an excellent coming-of-age tale and is brought beautifully to life by a cast of voice actors.
16. Redwall
by Brian Jacques, narrated by the author and a full cast
Get it HERE.
Redwall is a childhood classic, a beloved tale with millions of readers across the globe. In this first story in an epic fantasy series, a mouse named Matthias must save his friends at Redwall Abbey. Now, it's an audiobook waiting to be devoured by many more readers from a new generation.
17. Esperanza Rising
by Pam Muñoz Ryan, narrated by Trini Alvarado
Get it HERE.
Esperanza has a perfect life in her wealthy family home in Mexico, until one day tragedy strikes. Soon, Esperanza finds herself in California working as a farm hand. She must learn to let go of what was and embrace what it in this coming-of-age story that is given voice by Trini Alvarado.
18. Harry Potter and the Sorcerer's Stone
by J.K. Rowling, narrated by Stephen Fry or Jim Dale
Get it HERE.
Two audiobook versions of the Harry Potter series exist, narrated by either Stephen Fry or Jim Dale. Both are excellent. Both breathe life into the magical world of Harry Potter, allowing readers to escape into a wonderful audiobook.
19. Brown Girl Dreaming
written and narrated by Jacqueline Woodson
Get it HERE.
Brown Girl Dreaming is author Jacqueline Woodson's memoir in verse. In it, she tells the story of growing up in the south in South Carolina and in the north in New York. She explores what it was like to grow up as a Black child in the 1960s and what home truly means.
20. The Jumbies
by Tracey Baptiste, narrated by Robin Miles
Get it HERE.
This Caribbean folktale is brought to life by Robin Miles. Readers listen to the story of Corinne La Mer as she tries to foil the plans of the beautiful stranger named Severine, who bewitches her father.
21. Peter and the Starcatchers
by Dave Barry and Ridley Pearson, narrated by Jim Dale
Get it HERE.
This Peter Pan origin story written by humorist Dave Barry and YA author Ridley Pearson is laugh out loud funny, especially when read aloud by Jim Dale.
22. Hey Kiddo
by Jarrett J. Krosoczka, narrated by Jarrett J. Krosoczka, Jeanne Birdsall, Richard Ferrone, and Jenna Lamia, et. al
Get it HERE.
A full cast of more than 40 performers, including the author himself, brings this graphic novel about addiction and abuse to life.
23. Song for a Whale
by Lynne Kelly, narrated by Abigail Revasch with author's note and a section on deafness and sign language read by the author
Get it HERE.
Song for a Whale is about Iris, the only deaf girl in her class. She finds herself identifying strongly with Blue 55, a blue whale who cannot communicate with other whales because his song is sung at a different frequency (Blue 55 is a real whale). Iris, a tech genius, hatches a plan to communicate with the whale. The author is a sign language interpreter and has written a powerful tale about communication and compassion.
24. Roller Girl
by Victoria Jamieson, narrated by Almarie Guerra and full cast
Get it HERE.
Astrid and her best friend Nicole are inseparable until one summer when Astrid goes to roller derby camp and Nicole heads off to dance camp. As Astrid navigates the tough world of roller derby, she also navigates what might be a friendship lost and friendship gained.
25. The Bridge Home
written and narrated by Padma Venkatraman
Get it HERE.
The Bridge Home is about four homeless children in Chennai, India. Though they are only four among thousands, the author breathes life into these four children who are modeled after homeless youth the author has seen firsthand.
26. Our Castle by the Sea
written and narrated by Lucy Strange
Get it HERE.
Petra "Pet" Smith lives in a lighthouse by the sea. Around her, WWII rages. Our Castle By the Sea is a seafaring myth come to life, and really excellent historical fiction besides.
Audiobooks for Kids: High School
27. Norse Mythology
written and narrated by Neil Gaiman
Get it HERE.
Neil Gaiman turns to the stuff of legend, the Norse myths themselves. Tantalizing snipets of mythology exist, bits and pieces that give us a picture of what Norse legend was like. Gaiman turns his storytelling prowess to Loki, Thor, Odin, and the rest in this retelling of these stories, which are often hilarious.
28. Hidden Figures Young Readers Edition
by Margot Lee Shetterly, narrated by Bahni Turpin
Get it HERE.
The movie of the same name is based on this book, which tells the phenomenal true story of black women mathematicians who helped NASA send astronauts to outer space during a time when racism and sexism were overt and rampant.
29. The Crossover
by Kwame Alexander, narrated by Corey Allen
Get it HERE.
Josh and Jordan Bell are twin brothers, and both are excellent ball players. Josh also has mad poetry skills, so he tells this story in fast-paced verse. Novels in verse lend themselves particularly well to the audiobook format, and this one is no exception.
30. Gabi, a Girl in Pieces
by Isobel Quintero, narrated by Kyla Garcia
Get it HERE.
This novel takes the form of Gabi's diary. Gabi is a high school senior, and she is grappling with all the identifies that form her – Latina, overweight, the child of an addict. Around her, her friends grapple with their own individual identities, and together, somehow, those pieces make up the whole.
31. The Hate U Give
by Angie Thomas, narrated by Bahini Turpin
Get it HERE.
The Hate U Give, which earned eight starred reviews and won pretty much every award given to young adult books, becomes a book as powerful as a gut punch in the audio version. It's about police brutality and racism through the eyes of sixteen-year-old Starr, who is the lone witness to a police shooting that ends in the death of her friend.
32. The Poet X
written and narrated by Elizabeth Acevedo
Get it HERE.
Elizabeth Acevedo's award-winning novel The Poet X is written in verse by a young woman who aspires to become a slam poet. The author lends her own voice to the audiobook narration. If ever there was a book meant to be read aloud, this is it.
33. The Lovely War
by Julie Berry, narrated by Jayne Entwistle and full cast
Get it HERE.
The Lovely War is something special, combining mythology and historical fiction into a sweeping YA epic. The Greek gods of old, including Aphrodite, Ares, Hephaestus, and Hades, tell the stories of their grandest works in the human realm, a love story set against the backdrop of WWI.
34. The Fountains of Silence
by Ruta Sepetys, narrated by Maite Jáuregui and full cast
Get it HERE.
Author Ruta Sepetys is one of the best historical fiction writers of our time, and The Fountains of Silence may be remembered as her magnum opus. The backdrop is 1957 Spain under the dictatorship of General Francisco Franco. Aspiring photojournalist Danie Matheson, traveling with his family, photographs the dark underbelly of Franco's regime, a dangerous move that threatens to upend his life.
35. Dig
by A.S. King, narrated by A.S. King, Mike Chamberlain, Tonya Cornelisse and Kirby Heyborne
Get it HERE.
Family secrets abound in this story rooted in "polite white supremacy." Five cousins, would-be heirs to a potato farming fortune, are instead kept at bay from any family wealth. The cousins must find a way to dig out beneath the veneer of maintaining the family name at all costs.
36. Akata Witch
by Nnedi Okorafor, narrated by Yetide Badaki
Get it HERE.
This fantasy story is about Sunny, a 12-year-old American albino living in Nigeria. She's a study in contradictions and feels she doesn't fit in anywhere – until she discovers her mythical powers.
37. The Astonishing Color of After
by Emily X.R.Pan, narrated by Stephanie Hsu
Get it HERE.
After Leigh Chen Sanders's mother commits suicide, Leigh travels to Taiwan to meet her maternal grandparents and search for the bird she is positive her mother has turned into. Her search for her mother ultimately brings Leigh a deeper understanding of herself and her family.
38. And the Ocean Was Our Sky
by Patrick Ness, narrated by Cassandra Campbell
Get it HERE.
In a reworking of Moby Dick, Bathseba and her pod of hunters relentlessly seek to destroy the whales. This book is deeply philosophical and leans deeply on imagery and figurative language, both of which come to life in the audiobook.
Other Book Lists From Amy's Bookshelf You'll Love: